The garden is a place to play, experience adventures, get to know nature, play sports, dream and grow. So, make it a nice, magical place. This year the children's garden will become more natural, magical and tough with a touch of luxury. Curious? These are the 2022 trends for the children's garden.
Natural materials
Warm, dreamy and soft. This year we cannot ignore the natural materials. Rattan, reed and wood give the playground in the garden a peaceful look. Think, for example, of the Panter James corner sofa with cushions in the trend colors of blue, neutral brown, earthy red or warm mustard in combination with a walnut swing that completes the children's garden. Opt for a wall painting, and you have created a magical space in the garden where children can dream away.
Black with a touch of luxury
In addition to natural and calm materials, the children's garden can also be tough and industrial in 2022. To create this children's garden, you can work with our Juniper Lion furniture, a beautiful combination of wood and steel. The touch of luxury is created by the decorative cushions in black or denim. A cool and warm effect is created in combination with leather decorative cushions. Give the garden a rich look by painting the flowerpots gold, for example. This is a small detail that makes an enormous impact.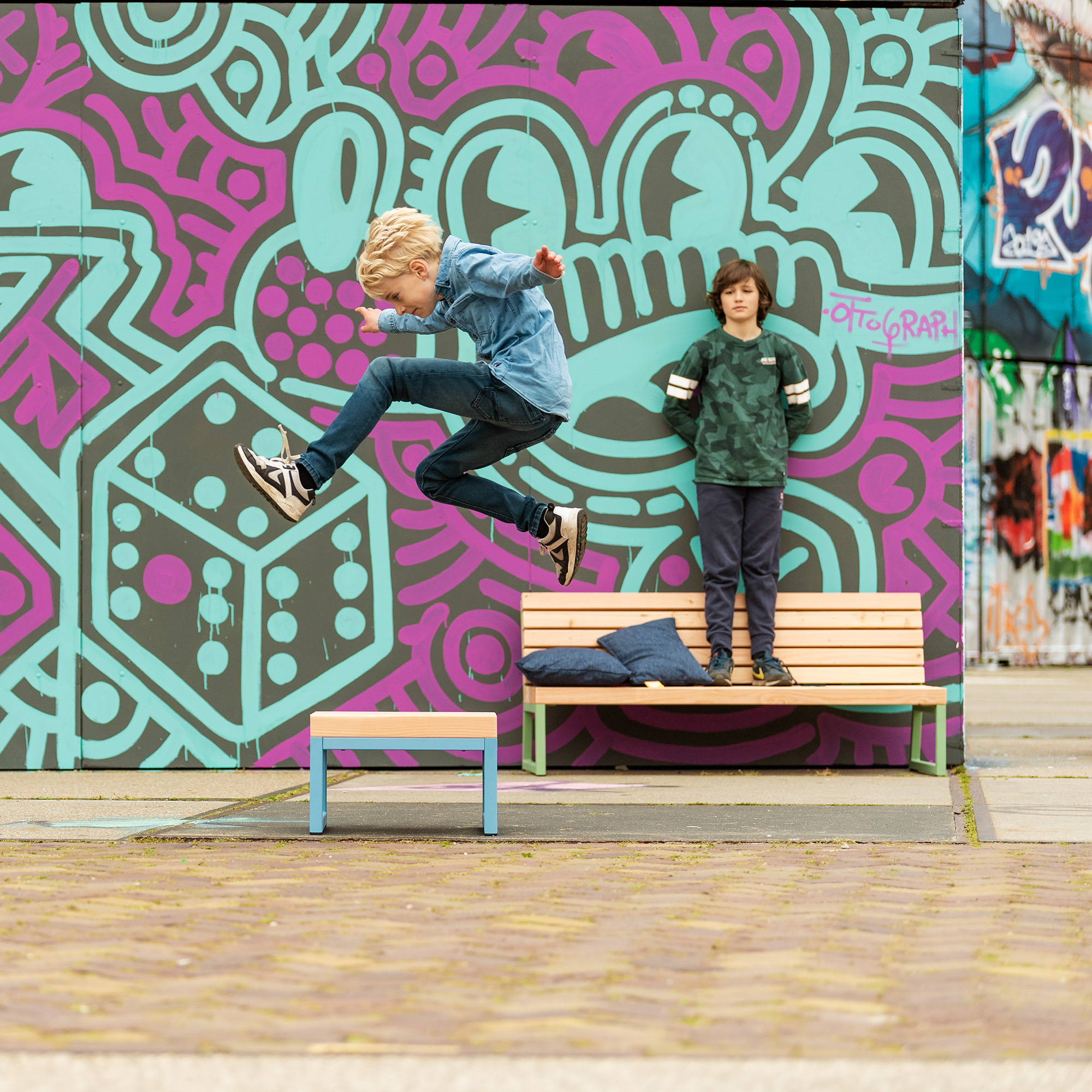 Atmospheric gray 
A gray children's garden, boring? Certainly not, a gray children's garden can be very atmospheric. Gray in combination with wood is a beautiful combination. The Stella Nova Modular set with dark gray cushions and medium and light gray decorative cushions immediately creates more atmosphere in the garden. You can also opt for scaffolding wood. Scaffolding wood is slowly graying. In combination with the pastel color trend, a perfect combination for a quiet, yet warm children's play corner in the garden. Bring the hue back to accessories such as throws and decorative cushions. Still looking for a little more contrast? Then opt for fresh colored cushions. A wall or fence with chalkboard paint will give children plenty of space to express their creativity. Because what could be more fun than drawing on the walls?
For little adventurers…
The latest trend for the children's garden is not a trend. It is the garden as a discovery area, a natural playground full of plants and animals. Give your kids their own vegetable garden or let your little one create a wildflower garden with blossombs. With the Stella Nova Play picnic table,  tables and benches, they have a place where they can pot plants and play around with sand and mud.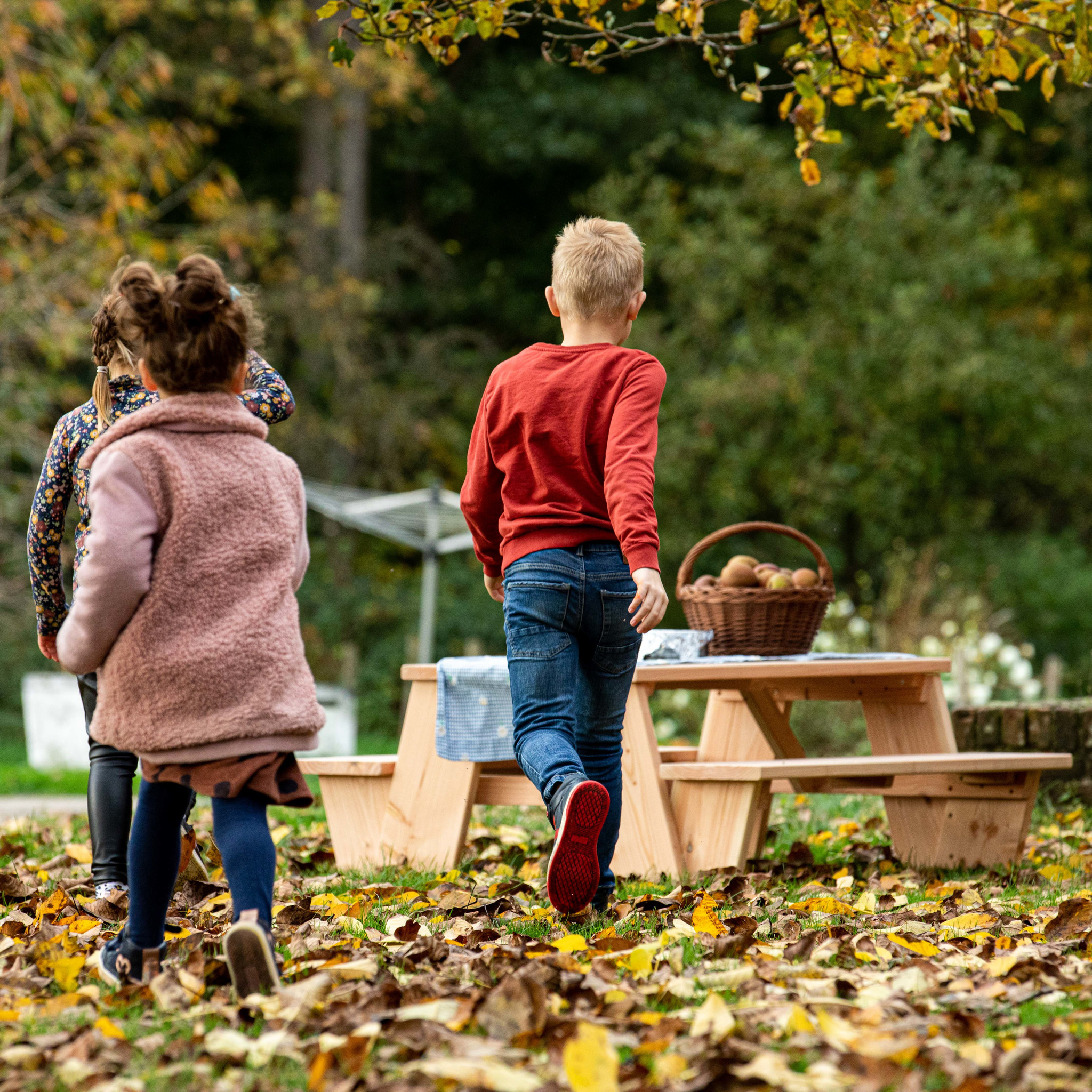 Are you afraid you will soon get bored by these trends? Then choose decorative pillows and blankets in the trend colors. Or items that you can paint or spray. When you want something different. When the trend is over, simply paint the flowerpots in a distinct color and replace the cushion covers. This immediately gives the children's garden a fresh look, without having to purchase a lot of new stuff.
No garden but a balcony? These are two trends for your balcony!
Japanese combined with Scandinavian
Recently we saw an endless number of pallets with cushions on the balcony. In 2022, it will be more relaxed in a minimalistic combination of Japanese and Scandinavian. Think of soft nuances and simple lines in the furniture. There is often not too much space on a balcony, so use the space well. For example, start with the Lacey Day Daybed as a basic item and keep it calm. To further fill the balcony, a nice outdoor rug, and some extra pillows, and you create a wonderful reading and playing area for your little one.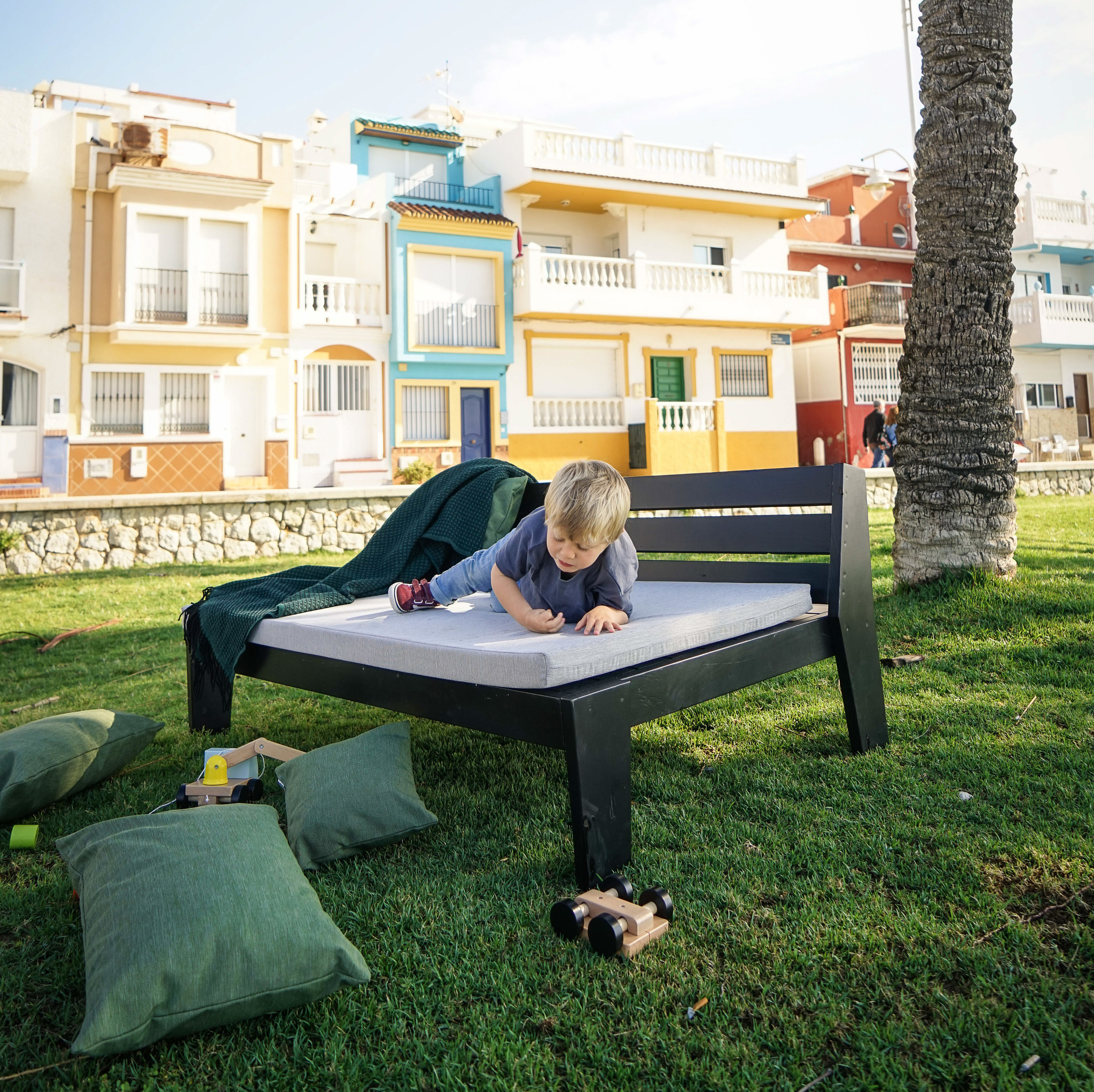 Little adventurers have also been thought of
It is completely on trend to grow your own herbs and vegetables, even on the balcony. You can use wall racks or, for example, put an old ladder against the wall. This makes it amazingly easy for your children to grow their own vegetables, herbs or plants. In combination with our Stella Nova Play in Arts & Crafts style (See picture on top of this page), your children have plenty of space to enjoy gardening and in the evening, you can serve them the most delicious vegetables from their own balcony.