Children's use of social media is an entirely new concept. Don't bubble wrap your child to shield it from social media. But get to grips with social media, quickly. We need to understand the influence that it has on our childrens lives.  
As parents, we can all feel a little anxious about today's digital world, and the impact that it is having on our children. 
The rise of social media is something that is totally alien to us and our own childhood (where the internet was only just being invented, and we had never hashtagged anything in our lives). 
Whether it's through YouTube videos, on the internet, through film and TV or via their own accounts, our children will be exposed to social media - that's an almost unavoidable fact. There's nothing we can do to stop them being aware of this. 
So, we parents have to get to grips with social media, quickly. We need to understand the influence that it has, the responses that it can encourage (both good and bad), and, most importantly, realise the full scope of its dangers. 
Children's use of social media is an entirely new concept and so, it's bound to be frightening. That doesn't just go for us as parents - who can be nervous about almost anything our child is exposed to - but for international organisations and governments, too. 
The effect of social media addiction on children has been the topic of numerous recent studies, as experts attempt to find out what this unprecedented rise in digital-oriented behaviours may have on the next generation. 
So, as this is a topic that we are personally passionate about, we wanted to use this blog post to outline the findings of the latest studies. We will be detailing the findings, explaining what they mean, and providing you with actionable tips to mitigate this risk. 
The latest studies into social media addiction in children 
Today's digital age is a fast-paced, ever-evolving world, where content is shared at a faster pace than we've ever seen before. 
In some ways, this is fantastic. We are learning new things all the time, and the ability to discover information is at our fingertips, whenever we want to use it. 
However, naturally, there are some significant downsides to social media, especially for younger people. 
As you can see from the graph below (Source: Our World In Data), social media usage has witnessed a dramatic rise in just the last 15 years alone. 
Today, Facebook has 2.3 billion users. Instagram, YouTube and WeChat have over a billion users each, and TikTok (despite only being launched a few years ago) already has more than half a billion users.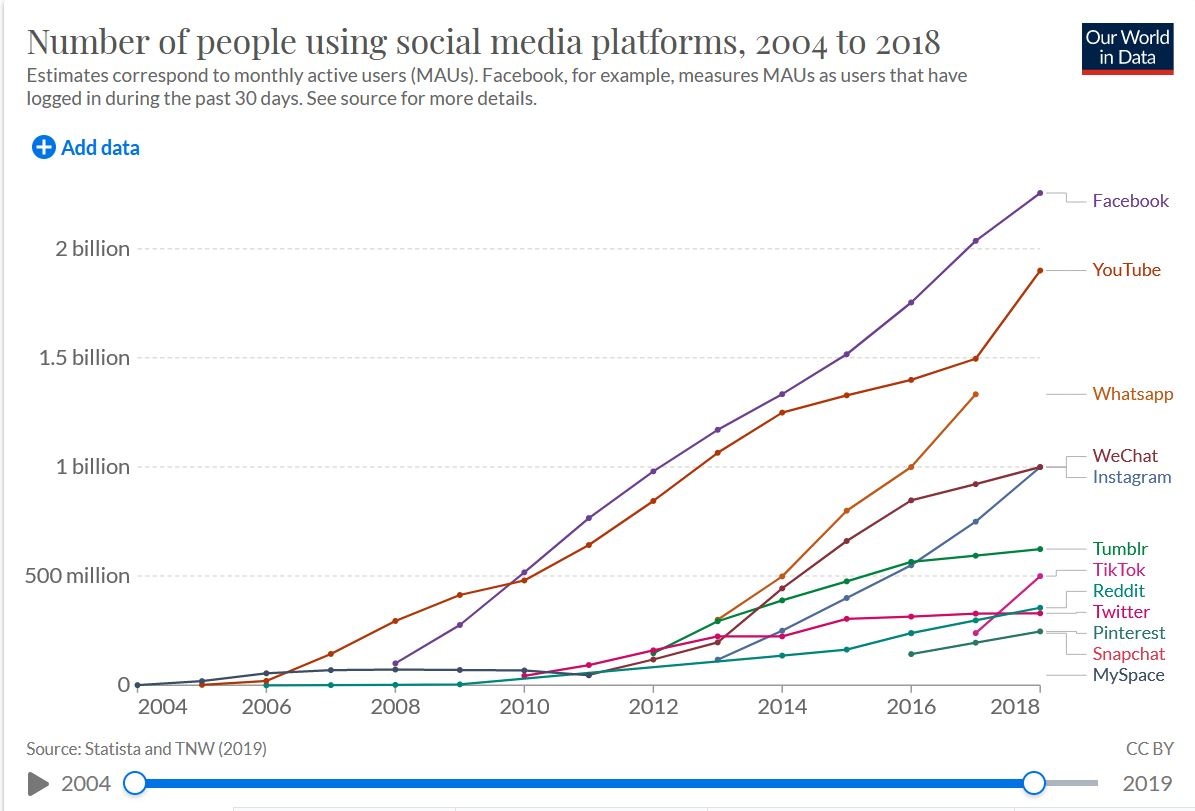 What these sources also tell us is that age has a significant influence on these usage trends. Across the board, younger people use social media far more than older generations. The proportion of younger users of Snapchat and Instagram is also proportionally far higher. In fact, 73% of people under 25 are using Snapchat. 
Currently, 87% of children aged 12-15 have at least one social media account. Furthermore, 81% of online 9-17 year olds have visited a social media site within the last 3 months. 
However, despite this overwhelming majority, studies show that parents are still very much in the dark about social media. Just 10% of parents with a child under 10 have openly discussed the right way to behave online and how to deal with online threats. 
The addiction of social media is frighteningly common amongst children. 
In the last decade, depression and internalizing symptoms amongst young people has increased signficantly. Unsurprisingly, many experts are linking this to the increased usage of social media.
From a parent's perspective, the way that this is influencing their child is pronounced. Recent studies of American parents show that 56% of parents believe that social media gives their teenager an unhealthy need for approval or desire for attention, and 68% believe that social media is affecting their child's ability to socialise in a normal way. In fact, some 67% of parents have been concerned that their teenager has a social media addiction. 
How social media addiction can affect children
As you can see, it's a rapidly growing trend, and parents are right to be concerned. 
The impact that social media addiction can have on children in particular is pronounced. Children are more impressionable and less able to limit the psychological impact that social media has on them. As a result, they are far more at risk of social media's dangers. 
Social media can have a serious impact on children's psychology, behaviour, self-perception and their mental health across the board. 
The ways that social media addiction can affect children include:  
Social displacement - a

theory

that suggests social media addiction can mean that users spend less time socialising in person, due to feelings of displacement 

Increased stress

Increased anxiety

A higher likelihood that depression will develop - For example, in a piece by

Cyber Psychology

, researchers referenced how "the time spent on social media was positively related to depressive symptoms among high school students in Central Serbia"

A reduced academic performance 

Sensations of loneliness

Increased stress

Struggles with self-acceptance or self-worth 

Increased social comparison - which can

generate feelings of inferiority

and, in turn fuels further psychological difficulties 

A distorted or negative self-image, particularly with regard to body image 

A distorted ability to communicate 

Physical issues, such as '

tech neck

' or 'thumb syndrome'

A significantly reduced attention span and a limited ability to focus
The importance of parental supervision
We understand that this can all sound incredibly scary.
But firstly, it's crucial that you remember that social media usage does not necessarily mean social media addiction.
Addiction is when usage becomes out of the individual's control, when they are unable to stop themselves on their own. These side-effects can occur in anyone who uses social media regularly, but they are far less likely to develop if you closely monitor your child's social media usage. 
So, you do not need to stop your child from ever using social media, you just need to help them use it in a safe and governed way, which is appropriate for their age. This is the best way to reduce the likelihood of social media addiction and the side-effects listed above from occurring.
To help you to ensure your child uses social media in a safe way, we would recommend that you take the following steps: 
Have a clear, open and honest talk with your child about how they use social media

Educate them about the right way to behave online 

If your child is distressed by anything they see online - whether it is inappropriate content or general feelings of insecurity - encourage them to speak to you about it

Install parental control firewall software

Read up on the free resources available to parents - the

NSPCC's Online Safety for Children guide

is a great example

Reinforce your child's sense of

confidence

and self worth 

Enforce family rules governing when they can use social media and how long for 

Make sure that they aren't bored! Give your child other activities that they can do, so that they don't resort to their screens simply out of boredom 

Take regular breaks away from the devices, and encourage them to enjoy some enriching, fun-filled outdoor play
And remember, instead of trying to bubble wrap your child by pretending social media doesn't exist, the best thing that you can do is to educate yourself and them, and to govern the way that they use it. 
Further reading: