Posted on
By Josephine Walbank
Posted in childrens furniture, childrens outdoor furniture, Dutch design, Garden, Juniper Lion, play area, recycle, Reduce, reuse, sustainable, wood and steel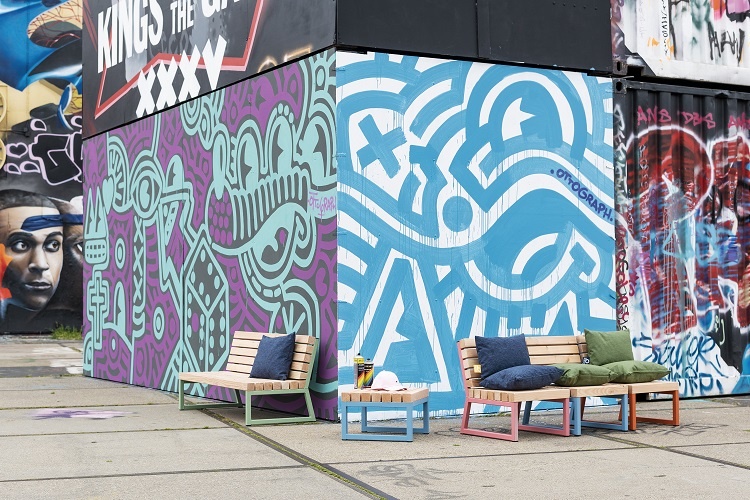 How beautiful is our newest adition to our product range. The Juniper Lion is a piece of furnishing which promotes imaginative, independent and natural play; three elements which are of huge importance for a child's development. With it, they can create a space to play which is entirely their own.
We have been delighted by the great feedback and positive responses that we have received from our customers. Thanks to all of your support, we took the plunge once again, and decided to extend our range further. 
We recently created a brand new addition to our collection of kids outdoor furniture. It brings something new to the table, while still firmly standing by our principles. 
So, we would like to use this blog to showcase our newest product, the Juniper Lion. 
This latest product in our range is special for a number of reasons. For us, we feel as though the new features in Juniper Lion represent both our developing areas of focus as a company, and the topics which are most important to the world right now. 
Below, you can find out a bit more about what these thought processes were, and how they led to the creation of the Juniper Lion. 
Sustainability 
As ever, sustainability was a huge factor in our design of this product. We have always and will always put eco-conscious thinking first, in anything that Mini Beee does. 
We have always been committed to responsible production and circular thinking, and we apply this lens to every single piece of our children's furniture. 
This is because we know that we all (and that's everyone on the planet) need to slow down the pace of consumption. Our values are shifting, and now more than ever, consumers are practicing their eco-conscious principles, which is fantastic. 
What's more, parents across Europe are developing ideas about the importance of reconnecting with nature. This comes as part of a bigger movement towards increased social consciousness, as we have new ideas about how we can encourage our children to grow up in the way that we want them to, and nature's role within this.
As you can see, the natural world is finally being given the recognition that it deserves. 
It is this way of thinking which forms our creative process. When we design our furniture pieces, the materials that we use hold an emotional weight for us. The matter of how we source them, treat them and the life that we can give them after they cease to be our furniture, have all been carefully considered by our team. 
Since the beginning of Mini Beee, we have designed our furniture not only to be safe and beautiful, but also in a way that wastes nothing. 
So, when thinking about what we can recycle or reclaim to create the Juniper Lion, we hit on a bright idea.  
For this product, we actually save the wood that is left over after the production of the Stella Nova modular furniture, and the Panter James Corner Sofa. This means that we have been able to massively cut down the waste in our production process and, rather than letting this beautiful material go to waste, transform it into a piece of furniture which does it justice. 
Promoting children's play
With its cool design and opportunity for endless fun, we know that kids are going to love it just as much as their parents.
We didn't want this product to be just a little chair or a bench, we wanted it to be a serious, child-proof piece of garden furniture. Children can stand on it, jump off it or sit , hang and lounge on it. By using wooden off-cuts, rather than big chunks of solid wood, in the Juniper Lion, we created a piece which achieved the same level of structure and comfort as our other products, with less wood. 
We consider the promotion of children's play from two key angles - how we can achieve the maximum possible level of fun for the child, while encouraging their development in a brilliantly beneficial way.
The Juniper Lion is a piece of furnishing which promotes imaginative, independent and natural play; three elements which are of huge importance for a child's development. With it, they can create a space to play which is entirely their own, and in which they can exercise their imagination to its full potential. 
All of this while being immersed in nature, and spending quality time enjoying the great outdoors. 
Encouraging children's creativity 
Building on the point above, with the Juniper Lion, we wanted to create a product that really encouraged children to release their creative side when they play. 
The bold, impactful colours of the Juniper Lion were designed by one of Mini Beee's co-founders, Maaike. 
She wanted to create a product that would really tap into the creativity and imagination of children. And now, this bright, fun-filled design can infuse into their games whenever they play with the furniture. 
Our new contemporary design has brought a new, urban and trendy twist to our range of products, and we know that children will love it. 
Maaike is the designer of the Juniper Lion set. Throughout her career, she has designed a wide range of cool furniture, using wood, steel and lots of color, with clean, simple lines and her sweet, signature touch of creativity.  
When we asked her about the Juniper Lion, Maaike said: "For me it is about happiness. Happy colours that remind us about confetti, a sweetshop or a box full of crayons. Combined with the beautiful sanded wood, it truly is eye candy. But, we have also used black or polished steel because every child is different, and not every child is a fan of sweet colours."
"Every chair and sofa we make is unique'', Maaike explains. "With Mini Beee's Juniper Lion collection, this kids furniture makes a statement in every garden, on every terrace or balcony. But, because it is so beautiful and simple, it also looks great in the nursery, playroom or play corner."
This creative, playful and eco-conscious addition to our product range is a brilliant representation of our ethos, and the topics that we continue to prioritise throughout our product range. 
We also wanted to say a massive thank you to all of our customers, for their brilliant support throughout the early days of Mini Beee. We couldn't have done it without you. 
Now, we're incredibly excited to release the Juniper Lion into the world, and to see what else Mini Beee has in store for the future.