Posted on
Posted in 1000 hours outside, city garden, clean air, eco-consciousness, ecofriendly, education, environment, explore, Garden, green world, outdoor play, outdoor play area, outdoor space, plant trees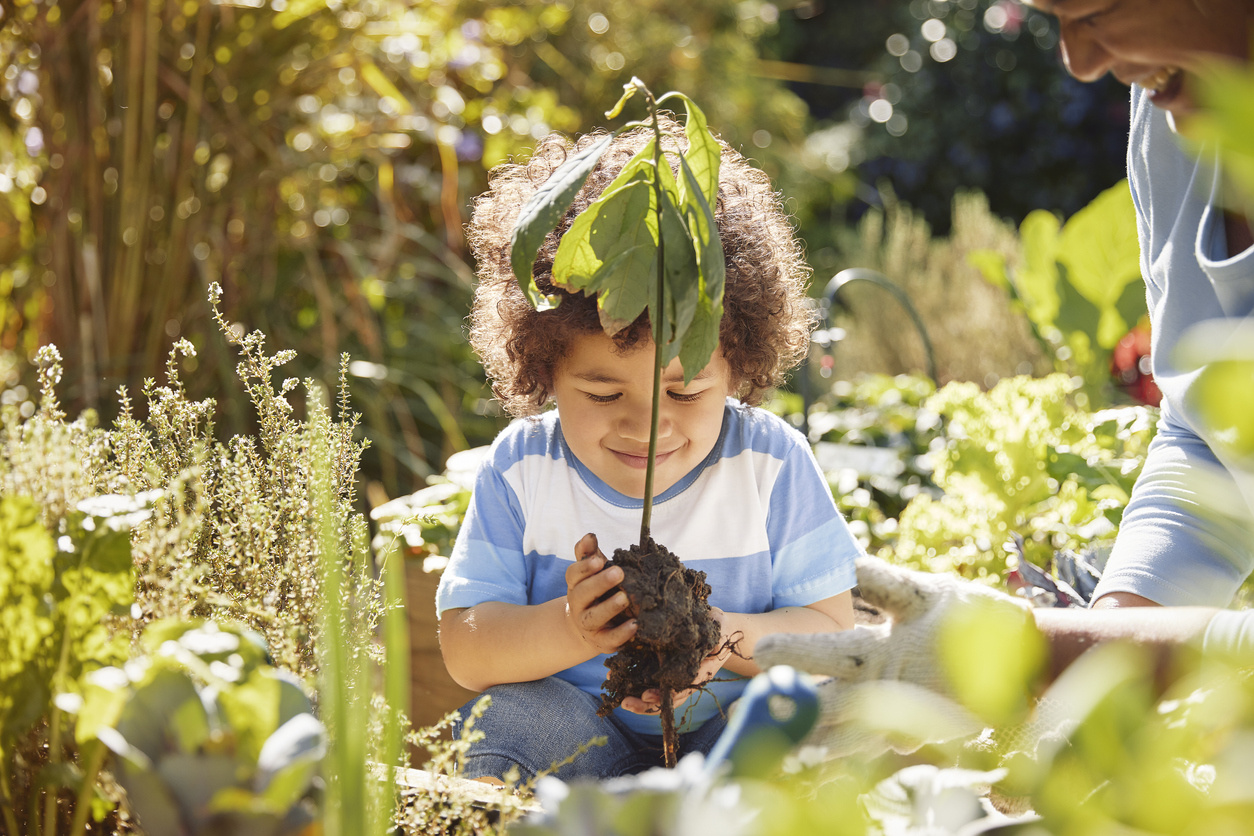 One of the most effective (and easiest) ways you can help the planet in your garden is by planting a tree. In this blog post, we've created a how to guide for growing a fruit tree from seed.
Trees are one of Mother Nature's proudest, most impressive creations. 
These grand specimens are a fundamental part of how the planet's complex ecosystem works. 
For instance, did you know that trees are the Earth's longest-living organisms? 
What's more, they never die of old age!
The Earth has over 60,000 different species of trees. Just one, single tree can take in over 20kg of carbon dioxide from our atmosphere each year. Multiply this by every single tree on the planet, and you can see how vital they are. 
(Thanks to Tree Hugger for all these brilliant facts!). 
So, one of the most effective (and easiest) ways that you can help the planet in your garden is by planting a tree. 
Now, that sounds like a big challenge, but actually, growing a fruit tree is an easy activity that the whole family can get involved with. 
In this blog post, we've created our guide to helping your family grow your own fruit tree, from seed right the way through to an impressive tree, filled with fruit for you to enjoy. It's a real win-win.
What seeds can you choose from? 
When growing a tree from a seed in Europe, these seed types are the most likely to bear fruit (pun intended):
Apples 

Pears 

Plums

Apricots 

Tomatoes 

Mulberries 

Cherry 

Nectarine 

Avocado
You don't need to buy these seeds, either - just save the seeds from the next piece of these fruits that you eat!
What are the steps for growing a tree at home?
1. Gather the seeds
Once you've eaten your fruit, collect the seeds. 
Choose seeds that don't have any mould, and are in good condition. 
Wash these carefully, making sure that they are totally clean. You may need to pick off any leftover flesh by hand. Then, dry them using a paper towel. This will give your seeds the best possible chance of success. 
2. Support their germination 
Now that they are completely clean, your seeds are ready for germination. 
Germination is the process when a seedling sprouts from the seed's casing. Although this is a natural process, by carefully putting the right conditions in place, you can significantly increase the likelihood that this will happen. 
If your seed is hard, and you're struggling to pick off all the bits of fruit flesh, leave the seed to soak in warm water. After 5 minutes, it should be a lot easier to clean your seed. 
Once clean, leave your seeds on a clean, damp paper towel. Then, lay over a second damp paper towel and leave them to (hopefully!) germinate. We'd recommend that you do this with a few seeds at one go, because it's unlikely that all of them will germinate. This way, you can choose the most successful ones to plant. 
Check on them in a couple of days, to see whether any sprouts have begun to emerge.
3. Prepare the soil 
Once the germination process has started, get your soil ready. 
If you're new to tree-growing, we'd recommend that you opt for seed starting soil. This specialist type of soil is designed to promote germination and give these seeds extra support in their first cycle of growth. 
4. Find the right spot to plant them 
Once you see shoots sprouting from your seeds, you'll need to plant them in the soil. But, where you place the seedling can have a big impact on their success at this early stage. 
This is because, if you take them outside too early, they could get too cold and die off. 
The best bet would be to use a small-sized pot, positioned inside, on a windowsill (so that they get access to plenty of sunlight). 
 
5. Keep looking after them 
Now that you're a new plant mum, you'll need to take responsibility for your seedlings. 
They will need to be regularly watered - little often is your best bet, don't overwater them, and don't leave it too infrequently. Just a small splash of water once every two days, upping it to once every day if it's a particularly hot day. 
When your seedling grows past 5cm tall, you'll need to fertilise it. We'd recommend using natural chemical-free compost. This will help them to grow big and strong.
 
6. Know when to transfer your seed 
A small plant pot is perfect for when your seed is in this early stage of growth. But, you'll need to know what to do when it outgrows its pot. 
The best time to transfer your seed into a larger pot is when it is twice the height of its pot. Then, you can carefully transfer the plant into a larger pot, then top it up with more soil. 
Keep doing this until your tree is tall and strong enough to support itself outside. Then, wait until a spell of sunny weather, and move it into your garden beds, or in your grass. 
Keep watering your tree regularly, and adding natural fertiliser every so often. 

Top tips to help your tree flourish 
Take care when cleaning

- the first step of cleaning your seed and then soaking it in water is a vital part of a successful germination. So, take this step with care. 

Use a plant pot tray

- when you buy a plant pot for your seedling, make sure that it has holes on the bottom. Then, when you're using it to plant your seed, position the plant pot on top of a plant pot tray. This will catch any excess water that the plant doesn't soak up - which will make the risk of over-watering much less likely. 

Make your own natural fertiliser

- rather than using shop-bought chemical fertilisers (which are notoriously bad for the environment), make your own fertiliser from your kitchen waste compost. 

Try adding coffee grounds

- coffee isn't just an energiser for humans, you know. It's a rich source of key nutrients and minerals, which plants love. So, sprinkling some used coffee grounds over the soil is a fantastic way to help your tree grow. 

Experiment with different fruit seeds

- try out different fruit seeds from the list above, and see which ones you have the most success with. 

Growing your own fruit trees is such a rewarding experience. It's such a wonderful activity to share with the kids, too. 
Together, you can help to nurture this little seed, and watch it flourish into a big, beautiful tree, with fresh fruit that you can enjoy every year. 
It's days like these that your child will remember for a lifetime. 
At Mini Beee, we believe that many of life's biggest lessons can be learnt in the garden.
Through play, exploration and discovery, a child can learn about the world around them, while developing life-long personal skills. 
If you want to foster this outdoorsy, imaginative enthusiasm in your child, have a look through our range of eco-conscious outdoor furnishings.