Two photographs of our grandfathers inspired us to look for more information about our mutual love for wood furniture. After talking to family members, searching through archives we uncovered details of our family's love for trees, wood and furniture making.
It is strange to believe that somebody who lived decades before us could have any influence on our lives, but the evidence is there! Mini beee founders Marjolein and Maaike are descendants of a long line of woodworkers, furniture makers and entrepreneurs. Read about how we've been influenced by our family history.
A history carved from wood
Two photographs of our grandfathers inspired us to find out more. After talking to family members, searching through archives we uncovered details of our family's love for trees, wood and furniture making.
It's fascinating to study our family's history and learn about the stories of the past which have a direct impact and influence on our passion and business.
A picture of Marjolein's grandfather hangs in her living room. It shows her great grandparents and grandfather as a small boy in front of a big cart full of rattan? chairs, ready to be transported to Paris. It is her favorite picture of her family. In Noorwolde, a small town in the north of the Netherlands is a rattan museum were furniture made by her great grandparents still can be admired.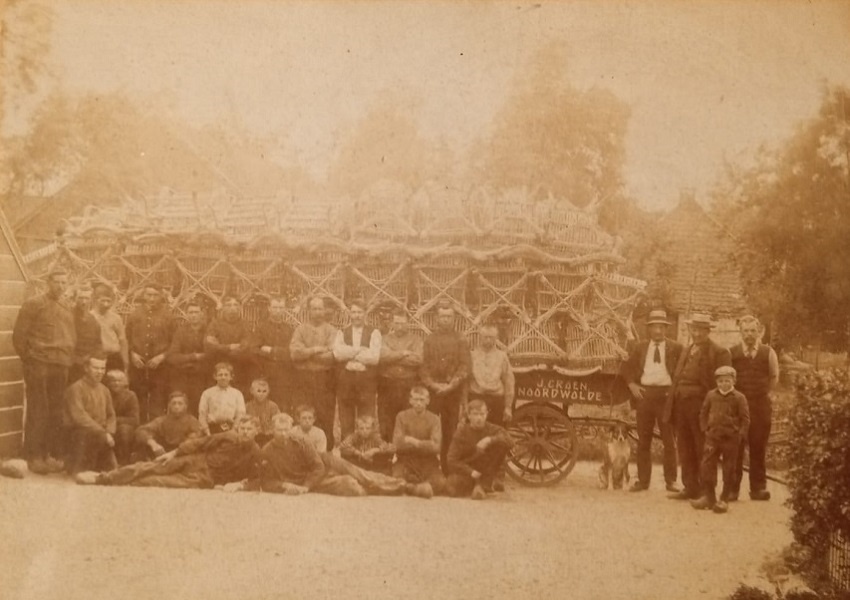 Maaike has many pictures of her great grandfather, a famous cabinet maker in the east of the Netherlands. His cabinets can still be found in antique shops, or at auctions.
Marjolein's great grandfather was a carpenter who was the overseer of a sawmill. After the sawmill closed, it was demolished and rebuilt in the open-air museum of Orvelte in Drenthe. Maaike's grandfather was a lumberjack and woodworker. He worked for Jonker Bobby, a famous Baron in the Netherlands. He was way ahead of his time! Every day, he started with yoga exercises together with his employees before they went to work. All these influences from the past have shaped Mini Beee.
How Marjolein and Maaike met
We met in Greece, were we shared a room and worked in a restaurant for 2 summers. After Marjolein left Greece, we lost contact. Twenty-something years later, we reconnected purely by chance. We talked in depth about work, life and our dreams. We brainstormed about family life, old ideas and new plans. We talked about our family history in furnuture making and woodcraft. We talked about our love for funiture and wood. And after a long, long, really long phonecall, Mini Beee was born.
What Mini Beee means to Maaike:
"As a parent, you want the best for your child. Sustainable and safe products that you can let your child play with. You want your child to discover and enjoy the outdoor life in your garden. How nice would it be if you could let your child enjoy a toy luxurious enough for you to want it for yourself? With this in mind, my inspirational daughter, and the chance meeting with Marjolein resulted in the creation of Mini beee."
Marjolein's Mini Beee dreams:
"I've always wanted to create something to make people smile. Something you can pick up and show: "Look, this is what I made". I wanted it to be sustainable, durable and respectful of nature and our planet. I wanted it to be everlasting, like the furniture my great grandparents made. In 2020 I realised this dream together with Maaike. As of 2021, we can proudly pick up our products, show it to you and say: "Look, we made this".